Surfers Journal in Berlin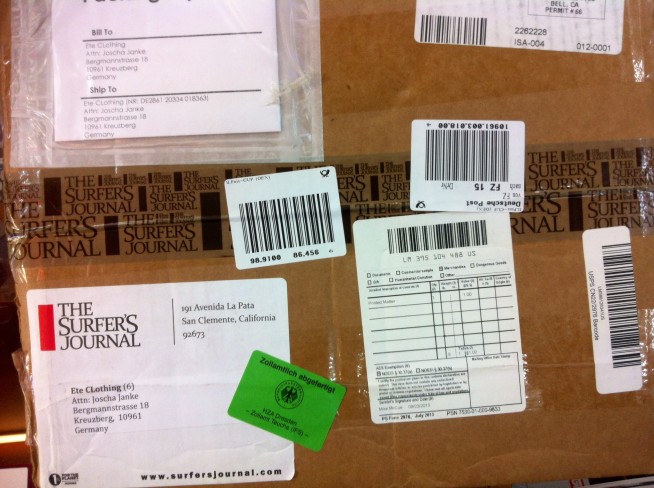 It´s here. The 22.5 Issue:
Consider the cover of 22.5 a little reminder that you can still bum around the South Pacific on tramp steamers and passenger ferries, finding hidden islands with unpronounceable names and waves you've never seen before. Inside this issue lies more of the unseen: from pastoral Uruguay to grotesque Oregon, the art of wave-painting to the science of wave-hunting, Maui surf icons to California skateboard anti-heroes. Preview the entire lineup of features in this edition:
Page 18
Point Blow-In | By Mike Oldwitt
The plan was simple at first: a one swell blow-in. A cyclone drifting off the coast of Queensland, an uninhabited island—load the SUV, set up camp, and gorge on a dredging sand-bottom right point. While it took more than one swell to score the latter, the proof's on the page: fickle perfection worth waiting for.
Page 26
Gerry Lopez writes on his underexposed '70s contemporary, Clement "Tiger" Espere: "In the Country, Barry Kanaiaupuni and Tiger ruled Sunset Beach and Haleiwa. They were the avant-garde of the Hawaiian chapter of the shortboard revolution, designing and riding radical surfboards that pushed the envelope of performance surfing in big waves."
Page 30
Moment's Notice | With Todd Glaser
The significant drawbacks—aside from the occasional near-drownings and lack of health insurance—in Todd Glaser's line of work are few. Perhaps the only thing that qualifies it as a job is the requirement that he always remain on-call: California to Bali, Bali to Brisbane, Brisbane to Fiji, two days on Tavarua, back to Australia. Glaser's photo essay on Kelly Slater, with well-rounded road notes, provides a unique look at the 11-time world champ.
Page 44
Un País, Un Refugio | By Nick Farago
Don't forget Uruguay. Each year a slew of international shapers, like North Shore craftsmen Jon Pyzel and Jeff Bushman, travel to the oft-overlooked coast to shape boards. As Nick Farago found on his early fall tour of duty, the reasons to settle into the wave-rich nation wedged between Argentina and Brazil are many.
Page 58
Mind the Transitions | By Jamie Brisick
Thrasher covers bagged. Walls ridden. Rail-slides originated with Mark Gonzales. First Chapters written with Dane Reynolds. The birth name's spelled Satan backwards. In profile, the impact of Santa Monica's Natas Kaupas—core skateboarder, surf-influencer, and graphic designer—comes clear.
Page 68
See this carefully selected pack of hi-grade images, assembled by a militia of deft lensmen. Call it a quick journey to more compass points than we care to count. Little explanation necessary—just some files that could no longer be stifled in a dark corner of the Photo Department hard-drives.
Page 84
Water, Water Everywhere | By Ariane Conrad
Ran Ortner paints waves. But they aren't the kind that surfers obsess over. And they aren't the kind of clichéd seascapes under the tired genre of "Surf Art." From his Brooklyn studio, Ortner works against the accepted conventions of the New York art scene to produce paintings inspired by the collision of light and dark elements on the sea.
Page 98
Working Without a Net | By Patti Paniccia
Jeannie Chesser's home on the back slopes of Diamond Head was covered wall to wall with memories of loved ones now deceased: her best friend Rell Sunn, her husband David, their son Todd—the big-wave surfer of the Momentum generation. When Jeannie is forced to pack up her family home, her daily paddle-outs along Oahu's South Shore provide some stability.
Page 104
As more surfers are funneled toward known destinations by the convenience of online search, a few explorers continue in the way of their predecessors—branching out to discover new waves. Kyle DeNuccio examines the changing landscape of modern surf exploration.
Page 114
Sometimes a Great Ocean | By Gavin Ehringer
There is not a trace of romance to be found in the Nelscott Reef story, just a tough-as-timber, perennially cold mash of North Pacific hatred. Located a short paddle or jet-ski ride off Oregon's Salmon River Highway, the egos, and the swells that lurk there come winter, are oversized.