Slide Surf Magazine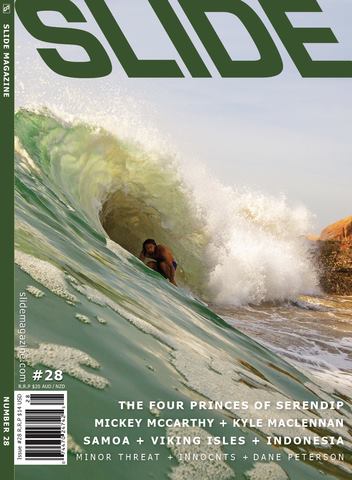 Das Slide Magazine #28 aus Neuseeland/ Californien.
High Quality Reiseberichte, sehr lesbare Texte und feinste Bilder.
http://www.slidemagazine.com/products/current-issue
"…A dredging tube from Sri Lanka starts off SLIDE Magazine issue #28. Editor At Large Michael Kew captures surfer/shaper Kyle Albers on a wild, granite-dodging, sand-sucking ride for the new cover, and this 160-page trip only gets more interesting from there. Paddle in and take this drop with us…
The Four Princes of Serendip: Massaging a Polytheistic Coast
Main man Michael Kew scored the cover photo and the lead, 24-page feature for issue #28. Well deserved, since this trip was legit. Kyle Albers, Jared Mell, Simon Murdoch, Connor Lyon, and 12 very-different boards cruise with Kew through several faces of Sri Lanka – copping dry-sand barrels, empty points, and fine finless walls.
The Road Really Never Ends
It's no secret SLIDE mag designer Matt King and Innocnts are a graphics match made in heaven. (Just look back to their first collaboration, "Still Looking for An Escape," in issue #24.) This six-spread layout is nothing less than art. A solo van trip north gives breath to immaculately-fused, mixed media, fully-bled layers. This one should win awards.
2M
We asked Jon Coen whom he would like to chronicle next. He replied: "You had asked about East Coast legends. I am forwarding photos from Mickey McCarthy – Outer Banks surfer, photographer, historian, shaper, and carpenter. The folder includes shots going back to the 1960s and really chronicles life on the Outer Banks – epic swells, characters, and seascapes. He shaped for WRV and New Sun. You'll also see that he has included some shots he has done of Civil War reenactments. He currently writes an Outer Banks history column for Mile Post, a free beach mag put out by Matt Walker (former Sr. Editor at Surfing). Mickey is the proverbial quiet guy who records everything." Sold.
I had too much to dream last night
Dynamic duo Bryce Young and Harrison Roach go for a run of filthy Indonesian barrels, carrying a sleek quiver aboard motorcycles, boats, and tiny autos. After photographer Anthony Dodds provided us with the cover of SLIDE issue #27, we were eager to hook up for something dreamy. This imagery and story (written by Roach) delivered beyond. And keep an eye out for the movie, too.
DP
Longtime SLIDE contributor Dane Peterson needs little introduction. He is consistently creating legend images. So when Dane made landfall in Southern California late last year, we discussed putting on a gallery covering his first few months back in his homeland. Considering the list of surfers he works with stateside, this one was a snap to make epic. Riders include JJ Wessels and Natalie Wessels, CJ Nelson, Matt Cuddihy, Harrison Roach, Kassia Meador, Nathan Strom, George Trimm, Joel Tudor, Alex Knost, Jake Bevan, Colin Whitbread, Ned Evans, and Zander Hartman.
Sailing The Viking Isles
Adventure abounds north. Photog Christian McLeod told us he was hopping on a sailboat with a local UK surf crew and heading up to The Viking Isles in search of freezing waves, so we made sure he gave us the print rights for their cruise mission.
Kyle MacLennan Folio
Photographer and filmmaker Kyle MacLennan is one of the hardest working individuals in the game. His is always busy with Hollywood movie industry work, but Kyle's passion for surf imagery and travel is what burns hottest. The proof is searing in these 16 pages.
Adventures on Opolu
The state of Samoa is a raw and lush pair of Polynesian islands. Chasing waves in this zone is not easy, but the rewards can be bountiful. From heavy water slabs to cove-protected reefs, Samoa has a vast range of conditions. Recently, a crew of Kiwi surfers joined Al Ashworth to chase warm water waves and experience the beautiful environs and people of Opolu. Surfers include Dylan Barnfield, Sam Bradford, Duncan Cameron, Neil Lumsden, and Thomas Kibblewhite.
We're Just a Minor Threat
In this women-only photo gallery, we chose to showcase a global and diverse gathering of modern female surfers. From driving proper noserides and balancing careful trim to gouging big hacks and flowing barrel poise, it is obvious this performing echelon of lady sliders are turning heads with their longboard footwork and shortie style.
.